Operator Training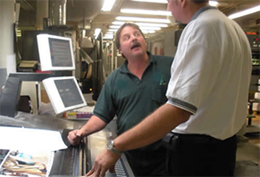 Performance Solutions will train your press crews and operators through an intense training program that will include operating and maintaining your press safely, scheduling maintenance routines, troubleshooting press functions, settings for peripherals and software and overseeing a live demonstration performed by your press crew.
Our printer pressmen-training program will ensure that your investment has your press working at its maximum potential, instead of sleepless night worrying about unexpected breakdowns or poor production quantities.
If you are an equipment dealer or a printing company who has purchased or in the process of purchasing a Komori, Ryobi or Heidelberg printing press and in need of a certified trainer to get your printing crew and press operators up to speed on your new investment, contact us today to see how we can help you to get your staff trained.